For half a decade we've delivered  heart, soul, groove and rythm from here there and everywere. Oh yes, we do think that's worth celebrating. So we're having a five year birthday bash at Tranan Bar in Stockholm on Thursday 10th of june. For this special occasion we asked or favourite guest through the years to join up and play their best tunes. We don't expect any fancy gifts or so, but we do expect you to put on your best shoes and dance with us.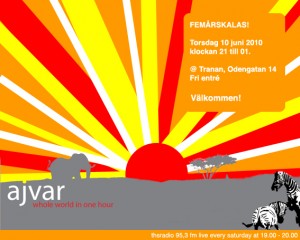 Here's the deal
Ajvar Radio five years birthday bash
Thursday 10th of june
21.00-01.00

Special guests
Nathan "Nasty Nate" Hamelberg (Serious Party)
Axel Boman & Calle Sjölander
DJ Erorikok (Fast Forward Sound)
Anna Lindström & Sebastian Matz (Klubb High Life)
DJ Cedi & Citizen Kofi
Boogie-Gustav
DJ Mattmatic

Welcome!
We wish us

Feliz Cumpleaños! Hyvää syntymäpäivää! Eku Ojobi! Dogum gunun kutlu olsun! Piranda naal vaazhthukkal! Parabens pelo seu aniversario! Sreken roden den! Til hamingju med afmaelisdaginn! Otanjou-bi Omedetou Gozaimasu! Sretan Rodendan! Wszystkiego Najlepszego!