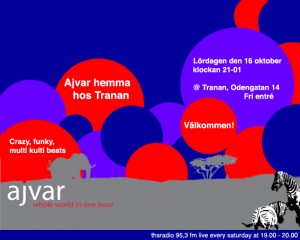 Ajvar likes Tranan Bar very much. And a apparently Tranas likes Ajvar almost as much. After celebrating our five year birthday bash there in June we were asked to do it again, this Saturday 16th. Since it's difficult to do the birthday thing tvice in a year we're going all in for giving you the best danceable night of you life. That means all that mashed up soul, groove and rythm from all over the planet, but on the dancefloor instead of in your radio.
So here's the deal
Ajvar Radio home at Tranan
Saturday, October 16th
21.00-01.00
Tranan Bar, Stockholm
Karlbergsvägen 14, T-bana Odenplan
www.tranan.se
http://tranansbar.blogspot.com/
See you there then!