Since Friday was a Ajvar-night out at Morfar Ginko, Saturday's playlist goes in slow mode. There's a thin line between overheating yourself and healing musically the day after. Our recipe for survival and recovery is an angel's voice with an apocalyptic edge lazy dub style, classic Babylon back-beat, a legendary almighty orchestra, traditional folklore with electronic cumbía beats, the father of Ethio-jazz, latest BBB and some of that ancestral soul*.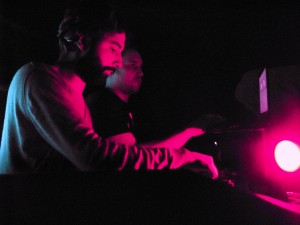 Max Romeo – One Step Forward
Prince Alla – Only Love Can Conquer
Burning Spear – Social Living
Gotan Project – Vuelvo Al Sur – (El Remolon Remix)
Gotan Project – Chunga's Revenge (Axel Krygier Remix)
Mulatu Astatke – Kaasalefktu Hulu (Will Magid Edit)
Boddhi Satva – Invocation
Buzz A Buzz – Moombah Herbalist
Suits On Fire – Ahora Es
Boddhi Satva – Los Santos
Mulatu Astatke – Yegelle Tezeta (Juan De Gomeval Remix)
DJ Rogelio Huerta – Moctezuma Xocoyotzin
DJ Cucañas – Makule Le
Balkan Beat Box – Money
Balkan Beat Box – Part Of The Glory
Balkan Beat Box – Enemy On Economy
Quantic Y Su Conjunto Los Miticos – Get Your Freek On
Quantic Y Su Conjunto Los Miticos – Nuthin' But A "G"
Orchestre Poly-Rythmo – Dis Moi LA Verité
* "When Deep House music has modern Congolese Rumba as wife, West African voices as mistresses, and urban R&B and Afro-Cuban rhythms as occasional girlfriends".