Episode 27: The ultimate irie irie Christmas

There's no such thing as an Ajvar Christmas special, we simply don't do it the main stream way. Instead this last 2014 show is packed with goodies from T.P.O.K Jazz Congo style, Tsonga Disco from the greatest South African soul singer of the 1970:s, Afro-Brazilian Latin house-beats from Da Lata and the Freedom Family sweetest happy song. No jingle bells but loads of groove.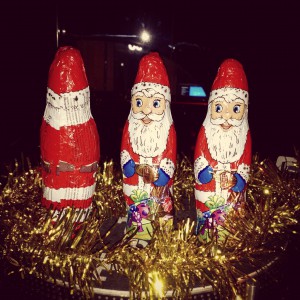 However there's one tradition worth keeping, honoring and repeating – the ultimate Christmas tune. So from all of us, and Freddie McGregor, to all of you a very irie Christmas.
La Sonora Dinamita – El Ciclon
Daniel Ponce – Oromi
Verckys Et L'Orchestre – Talali Tala
Franco Et Josky Kiambukuta Du T.P.O.K Jazz – Partage
Mpharanyana – Disco
Azymuth – Tamborim, Cuica, Ganza, Berimbau
Muyei Power – Yamba Sowe
T.P.O.K Jazz – Pablo Tumbajika
Sam Mangwana – Affaire Disco
Batida – Tá Doce
Adama Yalomoba
Da Lata – Un Amor A Mais (Remix)
Da Lata ft. Myra Andrade – Unknown
Freedom Family – Lala Li
Freddie McGregor – Irie Christmas
Listen to all broadcasting at Radio Skanstull
#radioskanstull
@ajvarradio