Mulatu Astatke and Muthoni The Drummer Queen has more in common than that big diverse continent called "Africa". They both also recently visited "Sweden".  Mulatu Astatke entranced the audience in Stockholm with his sensitive but still funky multiinstrumental and hypnotizing jazztunes. Muthoni The Drummer Queen on the other hand set the dancefloor in dance-trance mode with her kwaito-hip-hop-taarab-electro-afrobeat-mashup madness. Same same. But mostly different.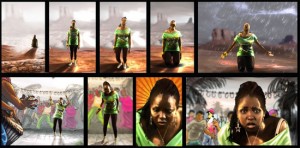 Muthoni The Drummer Queen album art work
If you havn't heard bout the label Snake Charmer EP be sure to do so. Ther's a couple of amazing names in the credits like Holger Czukay from German Kraut legends CAN. Listen to Hold On To Your Dreams and everything will make sense. And no, there wouldn't be an Ajvar show without a psycadilic guitar or two. With a name like Johnny Guitar from Thailand you just can't go wrong.
Mulatu Astatke – Green Africa

Francois Kevorkian Presents Jah Wobble, The Edge, Holger Czukay – Hold On To Your Dreams

Ben Kisinja & Chebin Band – Kiseete
Muthoni The Drummer Queen – Mahabuba (Hope)
Mim Suleiman – Bibi Na Mpu (Maurice Fulton Dub)
Mim Suleiman -Nyuli
Makadem – Ohangla Man
Noosh Afarin – Gol-e Aftab Gardoon
Johnny Guitar – Mon Du Dow
Lady Nova – Borinquen
Panteon Roccoco – HTCD3
Nicos Jaritz – Otao E Eu