Our celebrity guest parade continued tonight as Daniel Eskils stoped by the Ajvar studio. He is one half of the DJ duo Mengão (the other half is of course Erik Sohlström), by far the best Dj duo name ever*. During his optional one year exile in Rio de Janeiro, Daniel Eskils by chance ran into  Bebel Gilberto, the daughter of bossa nova legend Joao Gilberto. And just like that –  an exeptional door opener to the people, culture and society of Rio. And the enormous music treasure of samba, forró, tropicália, bossa, baile funk, mangue beat, Música popular Brasileira…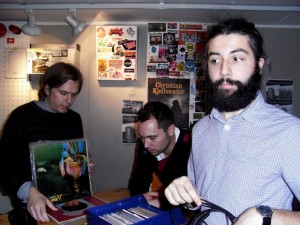 Daniel Eskils with upside down Amelinha album.
From blown away funky like Tim Maia's O Caminho Do Bem, to "a Rainha do Rock" Rita Lee with the smashing discotune Chega Mais. Cause you se, ther's no such ting as "Brazilian music". That's your lesson for today.
Gregory Isaacs – Top Ten
Ivan Lins – Cantoria
Caetano Veloso – Alfômega
Mc Marcinho – Glamurosa
Novos Baianos – Best E Tu
Dennis DJ – Jonathan II
Amelinha – Frevo Mulher
Tim Maia – O Caminho Do Bem
Sivuca – Central Do Brasil
Rita Lee – Chega Mais
Jorge Ben – Os Alquimistas Estao Chegando Os Alquimistas
Marcos Valle – Garra
* Mengão is the nickname Clube de Regatas do Flamengo, the famous football club in Rio de Janeiro.