Episode 28: The 2015 Caribbean kick off
The eleventh Ajvar year is game on. And we're kicking it off in style the Sugar Bum Bum way. Loads of sweet old Calypso and soca wibe from all over the Caribbean with everyone ever named Lord. All the way from Trinidad, Tobago, Haiti, Panama to Jamaica, Martinique, West Indies and so on.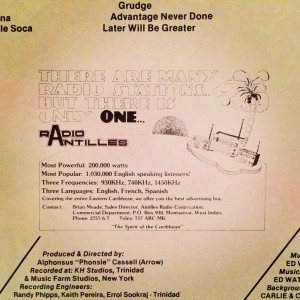 Soul Jazz Records 90 Degrees of Shade: Hot Jump-Up Island Sounds From The Caribbean is the showstopper. A kick ass collection of independence, righteous and hot jump-up sounds from the 1950's and 60's when endless new musical styles exploded and travelled across the world. And since we love steel drums a little bit more then all the other drums, we could play The Calypso Steel-O-Rama Bands mind blowing Java all night long.
Orlando Julius – Love Thy Neighbour
Papi Brandao Y Sus Ejecutivos – Viva Panama
Lord Nelson – Disco Daddy
Mighty Arrow – Socka-Rocka
The Calypso Steel-O-Rama Band – Java
Mungo Mtoto – Gettho Children
Lord Kitchener – Love In The Semetary
Lord Kitchener – Sugar Bum Bum
Superblue – Soca
Ibo Combo – Mateau
David Martial – Tamba
Lord Cobra And Pana-Afro Sounds – Rocombey
Edmundo Ros – London Is The Place For Me
Hemsley Morris – Stay Loose
Walter Ferguson – Computer

This spring we're stepping our love and devotion for Radio Skanstull and will do it clubwise once a month. So next week, the 13th of February, we're transferring our broadcast into a dance floor. Be there at 9 pm with your sneakers on.